Empowering neighbors with the tools to help one another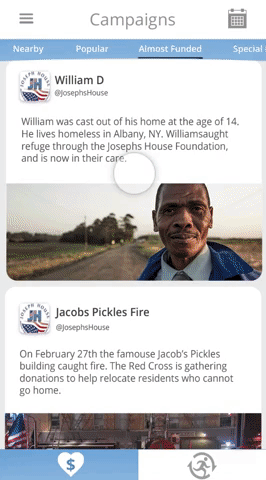 Busy, newly employed millennial eager to give but has limited resources
Detangle visually exhausting UX and redesign UI
User Research, Persona Development, Analogous Product Research, A/B test
Enhanced UI designs through chunking, color psychology, incentive theory
Simplify designs to avoid excessive visual input, increasing ease of navigation
Givdapps is a non profit organization that developed an app which would ease the donation experience. Their goal was to create a platform through which users could find people or organizations in their local community that needed assistance and aid them through monetary as well as non-monetary donations. If a user were to select a non-monetary donation option, they typically would complete a physical challenge and be sponsored by a local business. Once they complete the challenge, the local business would donate to the cause.
Based off of user interviews, I developed this user persona to discover insights to define what features my redesign needed to include.
The redesign needed to:
​
accelerate UI navigation speed

increase flexibility when discovering monetary versus non-monetary donation options

reduce fatigue by depicting an exhausting list of charitable cause
Redesigning Charitable Giving to Be As Easy as Finding a Match on Tinder
I decided to use an analogous product that provides a quick match making experience, Tinder, to guide my design process.
​
Here is what I came up with!
Eliminating friction by separating monetary and non-monetary causes through two tabs
​
I further separated the two options with distinct color themes. I also placed the tabs at the bottom of the interface, since about 90% of millennials use a one handed grip**
​
​
​
​
​
​
​
​
​
During testing, 13/13 users agreed that this placement improved their experience​
​
**Based off an poll I held
Accelerating the match finding process
1. 10 second bios to get a understanding of cause (similar to short spurt of information provided on Tinder users' profiles)
​
​
2. When ready, all user has to do is hit one button to donate
Elevating Design with Cognitive Science
Design positive reinforcement for donations:
​
Incentive theory states that behavior is motivated by reinforcement and incentives. Thus, I designed a pop up that would appear after a user donated to reinforce the behavior.
​GivDapps strives to eliminate all road blocks in charitable giving, offering the most efficient experience.
​
​
Looking back on this project, I would have:
1. Simplified my designs so that users only see what they are looking for
2. Spend more time watching users interact with the app to discover other opportunities to increase efficiency
Adding a seamless payment method​

Showing users causes their friends are supporting

Add an option for users to raise funds